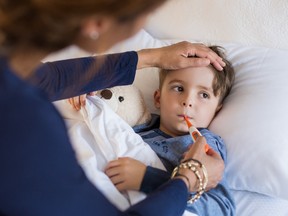 Postmedia may earn an affiliate commission from purchases made through our links on this page.
Article content
The cold and flu season is already causing a surge of viral infections among children in doctors' offices and emergency rooms. Healthcare providers are urging parents to brace for what's expected to be another season of COVID-19, Influenza (flu), Respiratory Syncytial Virus (RSV) and other common viruses all circulating at the same time.
In young children, these viruses can cause bronchiolitis — a lung infection which is similar to bronchitis in adults — and can lead to a lot of health-care visits, tests and treatments, many of which are unnecessary.
Article content

While bronchiolitis affects more than one-third of children in the first two years of life, the majority of cases are mild and will resolve on their own. The infection causes inflammation in the tiny airways of the lungs, sometimes causing wheezing and can even make breathing more difficult. Children will also experience cough, congestion, decreased appetite and sometimes fever.

Bronchiolitis is a diagnosis made by a health-care provider based on history and physical exam rather than diagnostic tests. Yet despite recommendations to avoid additional testing, many children still undergo needless tests and treatments for bronchiolitis.

In fact, studies have found more than half of children receive at least one form of unnecessary treatment, sometimes even leading to harm.

One common example is the unnecessary use of chest X-rays, which provide an image of the lungs. Chest X-rays are not recommended for bronchiolitis because the findings can lead to an incorrect diagnosis of bacterial pneumonia, resulting in kids getting antibiotics they don't need and won't help them get better.
Article content

Unnecessary antibiotics can cause your child to experience allergic reactions, nausea, diarrhea and stomach pain. At a global level, with the continued concern of rising antimicrobial resistance, reducing needless antibiotic use is crucial in the fight against this growing threat.

So, what should you do if your child is diagnosed with bronchiolitis?

When a child is sick, it can understandably cause stress and anxiety. If your child has symptoms, your health-care provider will make the diagnosis of bronchiolitis. If the symptoms are mild, they will let you know how to ease symptoms at home and what warning signs to watch out for if symptoms worsen or are not improving.

Over-the-counter cough and cold syrups and medications don't work and are not safe for children five years of age and younger.

Your health-care provider will recommend rest, fluids, treating your child's fever and keeping their vaccinations up to date. They may also provide you with information through what is known as a "viral prescription" about how to manage your child's symptoms and help them feel better while also explaining why an antibiotic is not needed.
Article content

Unfortunately, there is no quick fix for bronchiolitis, and the "watching and waiting" period can be stressful. While the fever should resolve in a few days, the cough and congestion can last a few weeks. But an unnecessary test or prescription won't help and may cause more harm than good.

To help navigate bronchiolitis this cold and flu season, Choosing Wisely Canada in collaboration with multiple health experts have developed simple tools and resources to help support providers and educate the public on bronchiolitis. These resources provide answers to common questions and help parents make informed decisions about their child's care.

As health-care providers, our primary goal is to ensure your child gets better as soon as possible. Remember to speak with your healthcare provider about your concerns and what you can do to help your child feel better this winter season.

Dr. Olivia Ostrow is a pediatric emergency physician at the Hospital for Sick Children and the Associate Director for the Centre for Quality Improvement and Patient Safety (CQuIPS) at the University of Toronto.

Dr. Jennifer Young is a family physician based in Ontario and Physician Advisor for the College of Family Physicians of Canada.

Sign up for our awesome parenting and advice newsletter at montrealgazette.com/newsletters.