Saturday's show was "our last concert in Montreal," Paul Stanley Slot gacor told a sold-out Bell Centre. We'll see about that.
Postmedia may earn an affiliate commission from purchases made through our links on this page.
Article content
"This is our 14th concert in Montreal," Kiss co-leader Paul Stanley announced to a sold-out, three-generation house at the Bell Centre on Saturday night. One song into a set that had started stirringly with Detroit Rock City, he looked to be in a reflective mood.
"It's also our last concert in Montreal," he continued, to a considerably more subdued response.
Article content"Yeah, I know," he said. "C'est dommage."

That they were here at all was no small thing. COVID-19 hit the Kiss camp hard. This two-year, 50th-anniversary farewell tour ends Dec. 2 in the band's hometown of New York, a full two years past its originally slated finishing date. Both Stanley and co-founder Gene Simmons tested positive in 2021, while Francis Stueber, the band's long-serving guitar tech, died of the virus that same year after contracting it while on tour. (Last month it was reported that his widow is suing Simmons and Stanley, alleging a lax COVID-19 policy on the road.)

But Kiss, driven by Simmons and Stanley's relentless work ethic — and unapologetic free-market capitalist principles — have been old-school troopers from the start. The show must go on, and it did. Soon, we're told, it won't. We'll see about that.
Article content

Stanley and Simmons's standing as the only remaining original members is a reminder that Kiss, in their 1970s heyday, was a four-headed beast, with each member making crucial contributions. Their first Top 10 hit single, 1976's anomalous ballad Beth, was written and sung by long-departed drummer Peter Criss, while the best song to come out of the band's four-simultaneously-released-solo-albums gambit in 1978 — in fact, the only song to take on a life beyond that rather hubristic project — was long-departed lead guitarist Ace Frehley's New York Groove.

Criss's replacement, Eric Singer, did yeoman duty to help fill the gap Saturday, even coming from behind his kit to sing Beth as an encore. But Frehley's pop-savvy presence and sharp lead guitar were missed. (Oh, and this reviewer can't have been the only person lamenting the absence of 1976's Criss-sung Hard Luck Woman, a song that affectingly channelled golden-era Rod Stewart and demonstrated that Kiss has always been more versatile than generally thought.)

Other criticisms? Chiefly, a bafflingly poor sense of pacing marked the evening. A solo guitar showcase from Frehley replacement Tommy Thayer was unconscionably long, as was a none-too-impressive drum solo from Singer. While these and other choices frequently brought momentum to a near-standstill, they may have served an unspoken purpose: to give Simmons and Stanley a chance to spend some recuperative minutes offstage. These men are septuagenarians, after all. They've earned it. Now, some might say: "Wait a second — Bob Dylan is 82, he's on the road all the time and he doesn't take mid-set breaks." Yes, but Dylan doesn't perform in outsized body armour while balancing on enormous platform boots and periodically being flown above his audience suspended from wire cables.
Article content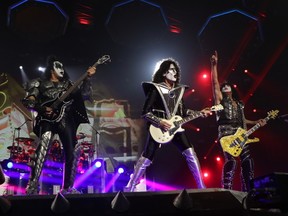 Kiss's career having spanned several eras, it shouldn't be surprising that certain songs' attitudes — toward sex in particular — haven't aged well. And that's to put it kindly. The 1977 single Christine Sixteen ("I don't usually say things like this to girls your age …") was very wisely left off the setlist, but just to show it's not all PC revisionism, they did do 1983's embarrassing single-entendre Lick It Up — a reminder of the lamentable period when Kiss, at a low-career ebb, sought to reposition itself as a metal band.
Still, there were times Saturday when you had to give it up for this often infuriating band. The aforementioned Detroit Rock City, Deuce, Black Diamond, Shout It Out Loud, Do You Love Me, God of Thunder — these are hard-rock warhorses for a reason. Perhaps most heartening of all, it would appear that the Kiss Army has made its rapprochement with disco. In 1979, when the single I Was Made for Lovin' You made its way up international pop charts (all the way to No. 1 in Canada), there was serious talk among the fan base that this was a sellout the band wouldn't survive. Disco was the enemy! How dare they?
Article contentBut time is a great leveller. On this night in 2023, the Lovin' You encore was greeted as just another Kiss evergreen. A fair number of people even gave it the devil's horns salute as they sang along, and they didn't look like they were being ironic.

Related Stories
Brendan Kelly: Cowboys Fringants singer Karl Tremblay was the voice of le peuple

Brownstein: A peek into the reel world of the RIDM documentary festival

Morgan Wallen turns Montreal into country-pop central

None
Some Kiss thoughts, jotted on the fly
Maybe it's time for a "How you feelin'?" moratorium
Ditto for addressing the crowd with the name of that crowd's city, and shouting "Put your hands together!" and variations thereof. Paul Stanley shouts these things a lot between songs, at an energy level every bit as high as that of the songs themselves. But it does begin to grate. When the show is going well, it's redundant. When it follows a song nobody really likes anyway — say, Psycho Circus — it's just sad.
A little bit of pyrotechnics goes a long way
Effective deployment of flames and (very loud) explosions requires a delicate balance. At the outset and at the climax of a set, fine. But scattered throughout? Here was proof of an old showbiz maxim: If you're climaxing all the time, you're not really climaxing at all.
Article contentNever discount the power of a logo

An evening in a room full of people decked out in official Kiss regalia underlined what Metallica demonstrated in Montreal recently: a band has truly cracked it when fans are happy to pay good money to effectively serve as a walking, talking promotional team. There was an elephant in this particular room, though. As this reporter's good friend, a Polish-Canadian with a strong sense of history, trenchantly remarked a few days ago on mention of Kiss: "I was always amazed how they could get away with the SS symbol in their logo."

Slade, you are not forgotten

When Kiss hit the North American airwaves in earnest in 1975, there was a small but vocal community whose thoughts went to a certain glam-rock band enormously popular in the U.K. in the preceding few years. "Why are these guys with the makeup getting all the action when they sound exactly like Slade, and Slade never had a chance?" we asked. (Yes, your reporter, very young at the time, was among their number.) The answer, with hindsight, was simple: Kiss wore makeup. The world was newly ready for full-on rock spectacle, and beyond the de-rigueur platform boots, Slade's stagecraft went little further than Noddy Holder's mirrored top hat. But today's youngsters should be made aware of the obvious roots of Rock and Roll All Nite and Shout It Out Loud.