Quebec is the only province where owners can't charge customers who don't honour reservations.
Article content
As if rising food costs, slim margins, staffing shortages and limited hours of feasible operation weren't enough, no-shows and last-minute cancellations continue to plague Montreal restaurants.
Failure to give adequate notice for a cancellation, or simply not showing up at all, is akin to a mortal sin for restaurant owners who feel their businesses' delicate ecosystems are being thrown off by the cascading effects no-shows cause: food is wasted, shifts are cut short, valuable time is lost and revenue falls.
Article content
"It's pretty well documented now that most restaurants have struggled and continue to struggle with making ends meet," said Marc Cohen, chef of the Mile End restaurant Lawrence.
"As we have these conversations about paying staff more and (providing) better working conditions, all that stuff costs money. … If you lose $500 on a night because a table doesn't show up, that could be health insurance for someone."
According to estimates from the Association Restauration Québec (ARQ), which represents more than 5,000 establishments across Quebec, restaurants lose an average of nearly $50,000 in yearly revenue because of no-shows — and 65 per cent of the ARQ's members say the problem is on the rise.
Often, the causes are simple: There are diners with reasonable excuses that keep them from showing up to a reservation. What complicates matters: Others are reportedly in the habit of double- or triple-booking their nights out on the town, hedging their bets as they wait for seats at a trendier place to free up.
More complicated still, the advent of reservation apps designed to help restaurants have made it just as easy for customers to book a table as it is for them to ghost a maître d'hôtel.
Article content
In November 2022, the ARQ began to lobby the Quebec government to amend the consumer protection law to allow restaurants to charge a cancellation fee — in the ballpark of $5 to $20 — for no-shows. Martin Vézina, the ARQ's vice-president of public and government affairs, says discussions with the Office de la protection du consommateur began in January 2023, but the proposal ironically remains on a waiting list.
"We're asking for the penalties because we want to change customers' habits," Vézina said. "I am optimistic, but I hope they'll answer quickly because we've been waiting many months to see which way they'll go."
Currently, Quebec is the only province in Canada that does not allow restaurants to charge for late cancellations and no-shows despite being able to take credit card numbers for reservations and deposits for larger groups. Even if credit card information is taken, it can't be used to charge customers.
The Office de la protection du consommateur says it's studying the issue but gave no timeline for rendering a decision.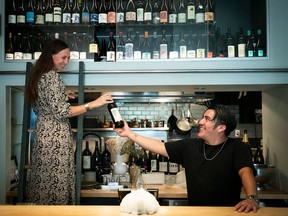 Meantime, a pilot project of sorts has already shown the power of cancellation fees on customer behaviour: The booking app RESY was allowing Quebec restaurants to charge for no-shows — a fee that would range anywhere from $5 to $20 per person — until it scrapped the option in March 2023, notifying users by email of the abrupt change in policy, which the Montreal Gazette obtained.
Article content
Jules Dubé, general manager at the Outremont restaurant Provisions, which uses RESY, says he saw an immediate change in consumer habits with that ability — even though his restaurant didn't implement it.
"Just with that commitment … last-minute cancellations and no-shows drastically dropped, from 30 to 20 cancellations a night down to 10, six or four, even on busy nights," Dubé said. "People would also call us to cancel. They would take more time and be more human about it."
Dubé believes that even a nominal fee could be a big help.
"I think people would take (reservations) more seriously and have the decency of calling us," he said. "My point is not to make extra money off of you for not coming, the point is to cover the potential losses. We prep food and organize based on the customers that have reserved in our books."
Around the corner from Provisions, Lindsay Brennan of the restaurants Tinc Set and Alma agrees with the penalty policy, noting how it could enable her to separate the wheat from the chaff.
"When someone reserves and is aware there's a cancellation fee, they think twice about reserving, and you really get to target people who are truly interested in your restaurant," she said.
Article content
"Oftentimes, we're very understanding that if people have to cancel … it's no problem. Things happen, and it's about having human conversation. It's very different from just blowing someone off and not taking the time and courtesy to make a phone call and consider what it means for a small business."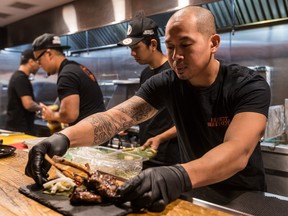 At Les Street Monkeys in Verdun, where a week can see as many as 500 to 600 customers served, chef Tota Oung continues to struggle with no-shows and believes diners need to reassess their relationship to restaurants.
"I believe a lot of customers don't care," Oung lamented. "Our reservations aren't the same as when people book time at a spa, hairdresser, or a ticket to the movies. But if you book two seats at a restaurant, you should behave the same way."
In the interim, restaurants have taken on different tactics. For example, Brennan and her restaurant Alma use the app Tock to sell tickets to tasting menus. Others, like the St-Henri restaurant Tuck Shop, have found that following up with a call is the only line of defence, but they'd still welcome a change to the consumer protection law.
"Is it that we're not to be trusted? That (the policy) will be abused? I don't know. It's very simple to create parameters of when you can charge and when you can't," said Tuck Shop's managing partner, John Metcalfe. "Just let us operate our businesses as we see fit, especially if it's using technology that's supposed to help us run more efficiently."
Metcalfe explains that penalties are a way to enforce consideration for the reservations clients make. Not showing up has what he calls an "opportunity cost."
"In an industry where margins are so low, especially with the rising cost of products and doing better by employees by offering better pay and benefits … we want to maximize our seatings and be as profitable as possible for everyone," he said.
Related Stories
Main Deli's closing a sign of troubled times for Montreal restaurant scene

For Montreal restaurants, smaller is often better

Brownstein: Lester's Deli has been sold, but don't panic

Pop-ups bring excitement and variety to Montreal's restaurant scene