Barkeep Teresa Slevin is calling it a career after 42 years of pouring and slinging behind the bar.
Article content
Mother Teresa has left the bar.
After 42 years of pulling pints of brew and slinging libations around town, the indomitable force of nature that is Teresa Slevin — known to her faithful flock as Mother Teresa — is calling it a career as a barkeep. The Bishop St. McKibbins Irish Pub, where she has plied her trade since it first opened 26 years ago, will be paying her appropriate tribute Saturday evening.
Article content
"Maybe the Pope will even show up for the party," Slevin cracks.
"Mother Teresa may be leaving the bar, but not the building," says pub founder and owner Rick Fon, holding court at the bar with Slevin. "She has pledged to come in regularly and keep a constant eye on us from the other side of the bar, to make sure we don't screw up. We need her presence. I don't know what we could have done all these years without her."
If you expect Slevin to get all misty-eyed after this declaration from Fon, you don't know this Mother Teresa. She won't stoop to sentiment.
"Why am I giving all this up? Because I'm an old lady. I'll be 67 on Monday," shoots back the no-nonsense Slevin.
Truth be told, that's an awfully lame excuse. She has the vitality of someone half her age. And though she may tip the scales at about 100 pounds, she has the strength of a longshoreman, be it moving kegs or moving out the unruly.
"I like to think of myself more as a pain in the butt," she says. "But nobody messes around under my watch. Not even the boss."
Truth also be told, Slevin's perpetual bark is far worse than her bite. Crusty, but ever lovable. She has been a mother figure to a few generations of college kids and scores of regulars who have descended upon McKibbins for their tipples.
Article content
"Now I've got that first generation coming back with their kids," Slevin notes.
Though she left her native North Ireland burgh of Omagh for Montreal in 1981 to hook up with her sister Mary (a now deceased bartender), her distinctive brogue has thankfully stayed with her over the years.
She immediately landed a bartending job at Alexandre's.
"Everybody had to wear a short skirt and red lipstick," she recalls. "Well, my legs are like two sticks. I wouldn't wear a skirt, and red lipstick I don't like."
Regardless, she stayed there six years before moving to Winnie's. And then it was on to McKibbins.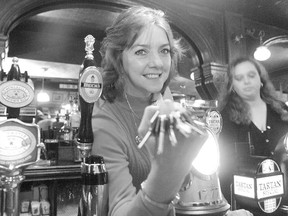 "It was the day we opened, Aug. 14, 1997," Fon says. "I didn't expect much of a crowd, but we got packed. It was nuts. I was behind the bar and not ready for what was to transpire. But Teresa, who I had just hired, stepped in behind the bar with me. That was the first time Mother Teresa saved us, but hardly the last time."
Baptism by fire or not, Fon was to get the fortitude to open more McKibbins pubs on the Main and in Pointe-Claire, and he's in the process of building another in the Dix30 mall in Brossard. There is also a McKibbins franchise in Vaudreuil.
Article content
"I truly feel if it weren't for Teresa, we wouldn't be where we are now," Fon says. "When she started here, she was already a legend. She's always been the face and heart of this location."
"I'll be the overseer now," Slevin says. "It's time for the young guns to take over."
She has tales to tell about her service, but, not surprisingly, prefers to talk about those she has tossed out of the pub.
"These two American Navy guys came in and were really acting up and being real jerks," she remembers. "So I physically grabbed them by their arms and threw them out. I got an applause from the bar."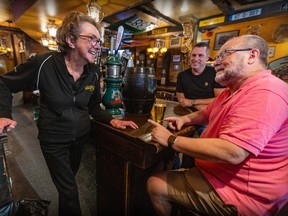 Longtime customer Deegan Stubbs has a fond Slevin moment to share: "U2's Bono and The Edge apparently came in, and Teresa went: 'Not U2 again!'"
A little clarification: It wasn't actually them but two who could pass for them.
"But the real U2 guys did come in on a weekend when I wasn't there, so I thought it could be them again," Slevin says.
"Teresa always ruled the roost," Stubbs attests. "If you were good, all was fine. But if you were in her bad books, you could remain there a long, long time."
One of Slevin's favourite customers was Bob Gainey.
Article content
"He was my main man," Slevin recollects. "But when I first met him, I had no idea who he was. I asked him what he did for a living. He said he played hockey. So I bought him a beer, thinking this poor bastard probably doesn't make any money."
Slevin concedes she isn't fussy about fashioning fancy cocktails. Although her Bloody Caesars rank among the best ever concocted, customers could expect to be pummelled with many expletives if they had the temerity to ask for a Cosmo or Long Island Iced Tea.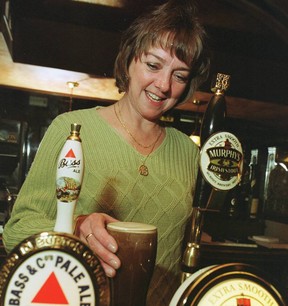 "This is a pub for heaven sakes. Order a pint! Go somewhere else for that kind of nonsense, I would say. Lychee martinis? Really!" snaps Slevin, whose favourite brew comes from – natch – a Guinness keg.
As for those who have requested her to make artful designs from the foam on top of their Guinness pints … let's just say: if looks could kill.
"Good grief, no!" she howls. "That's simply ungodly."
There is a limit, after all, to what this Mother Teresa will do for her flock.
Related Stories
Brownstein: Queen of Crescent Street bartender calls it quits after 39 years

Last call for legendary bartender Margo MacGillivray