Reichs will be in Pointe-Claire, Knowlton and Hudson Oct. 12 through 14 to promote her 22nd Temperance Brennan novel, The Bone Hacker.
Postmedia may earn an affiliate commission from purchases made through our links on this page.
Article content
Kathy Reichs, whose Temperance Brennan crime novels have been translated into 36 languages and brought her international fame, will speak at two Quebec literary festivals this month: in Knowlton on Saturday, Oct. 14, and in Hudson on Sunday, Oct. 15.
And on the evening of Friday, Oct. 13, she'll be in conversation with bestselling Montreal author Catherine McKenzie at Indigo in Pointe-Claire and signing copies of her 22nd Brennan novel, The Bone Hacker (Simon & Schuster).
Article content
Reichs said she looks forward to engaging in person with readers after the COVID-19 pandemic limited contact to the virtual kind.
"I really draw energy from readers," she said.
As Reichs herself was for decades, Temperance Brennan is a forensic anthropologist — someone who assists law enforcement in investigating human remains, gathering information from bones to determine who died, how and how long ago.
A Chicago native, Reichs has a PhD in physical anthropology from Northwestern University and was certified by the American Board of Forensic Anthropology in 1986. She taught for years at the University of North Carolina-Charlotte, being promoted to full professor in 1996.
For decades, she consulted to the Office of the Chief Medical Examiner in North Carolina and consulted in Montreal on cases at Quebec's Laboratoire de sciences judiciaires et de médecine légale. She had an apartment downtown.
"I commuted for 30 years, so I worked on a lot of cases," Reichs said in an interview with the Montreal Gazette.
Her many roles included teaching FBI agents how to detect and recover human remains, testifying at a United Nations criminal tribunal on genocide in Rwanda, helping to exhume a mass grave in Guatemala as part of a search for evidence of atrocities in the fate of the country's "disappeared," and assisting in the recovery of remains at the World Trade Center following the 9/11 terrorist attacks.
Article content
She was executive producer on the long-running Fox television series Bones (2005-17), which was loosely based on work done by Reichs. She oversaw its forensic science elements.
Writing fiction means making stuff up, but Reichs has often said she is "fanatic about getting the science accurate" in her stories, while keeping the writing "jargon-free and entertaining."
Although she draws from her own experience, she doesn't use precise details from casework in her books.
"I use only the core ideas," she said.
Reichs also finds inspiration in the headlines.
"I read something in a newspaper or magazine and that triggers a story idea," she said.
Many of her books have a connection to Canada. Her debut novel, Déjà Dead, for instance, was set in Montreal; it won the Arthur Ellis Award in 1997 for best first novel — an award described as "a crime-writing Oscar."
The Bone Hacker also opens in Montreal. A man is struck by lightning on the Jacques-Cartier Bridge during a fireworks festival. The victim has a tattoo that Brennan runs through an FBI database and learns it is linked to the Turks and Caicos islands, a serial killer who hacks off victims' left hands and an FBI investigation into cyber-hacking.
Article content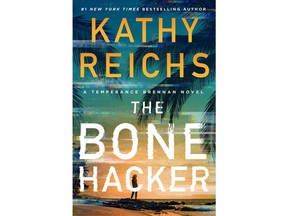 Reichs credits a magazine article for the inspiration — reporting by journalist Ronan Farrow in the New Yorker about zero-click spyware that can be downloaded onto iOS and Android devices without owners knowing they're being hacked.
"That is a scary thought," she said.
At 75, Reichs is now retired from teaching and casework and, although she misses both, she knows she can be only so many places at once.
When she was working on a case and "I had a book deadline, I would be thinking that I should be writing," she said. And if she wasn't called in on a case, she'd be missing that.
"I was always drawn in two directions," Reichs said.
These days, Reichs has "the luxury of being a full-time writer." She's at her computer most days by 8:30 or 9 a.m. and writes until 1:30 or 2 p.m. before breaking for lunch. Then she works out or does something else, maybe playing pickleball. She enjoys movies and plays and travel, and has been invited onto cruise ships to give lectures.
Reichs and her husband, a retired lawyer, live in a wooded neighbourhood of Charlotte, N.C. One of their two daughters lives nearby, as does their son, with whom Reichs co-authored the young-adult fiction series Virals. Four of her six grandchildren are close at hand.
Article content
Her son is now writing on his own, but working together "was really fun." One daughter is also a writer; the other has a master's in nursing.
Reichs has a second home on one of South Carolina's barrier islands and, from her home office there, "I sit and look out on the ocean."
She writes roughly a book a year and is currently at work on the 23rd Temperance Brennan novel — tentatively titled Fire and Bones and set in the Foggy Bottom district of Washington, D.C., during Prohibition.
AT A GLANCE
On Oct. 13 at 7 p.m. at Indigo in Complexe Pointe-Claire, 6321 Trans-Canada Highway, Reichs will be in conversation with Montreal author Catherine McKenzie and signing copies of her books.
On Oct. 14 at 7 p.m., Reichs will close the Knowlton Literary Festival. She'll be in conversation with Shakespearean lecturer Roger Williams at Centre Lac-Brome, 270 Victoria St. A limited number of tickets to the event, at $25 each, are still available. A three-day pass to the festival is $100. More at knowltonliteraryfestival.ca.
On Oct. 15 at 2 p.m., Reichs will join StoryFest Hudson at the Stephen F. Shaar Community Centre, 394 Main St., for a Q&A with StoryFest committee member Megan Osler. Audience questions will follow and Reichs will then sign books, available for purchase. A festival pass for all six events is $110. Tickets for the Reichs event are $25. More at greenwoodcentre.org/storyfest.
Related Stories
Kathy Reichs's latest Temperance Brennan novel is rooted in a personal setback

Kathy Reichs: Forensics is bred in the bone