Montreal Mayor Valérie Plante and Quebec Premier François Legault have been toying with public trust lately, something that undermines even smart decisions.
Article content
There's so much cynicism surrounding politics these days that it's a wonder anyone takes our elected leaders at their word anymore.
But we do.
Article content
Call us gullible. Or perhaps we're just unreasonably trusting.
When politicians make promises, we actually expect them to be kept. When they're not, we naturally feel disappointed.
These feelings of disappointment risk turning to outright disgust, however, if it becomes clear promises were made disingenuously in the first place and were always intended to be broken.
Article content
Yet our political leaders seem surprised when the public tries to hold them accountable for this duplicity.
The recent manoeuvres of Montreal Mayor Valérie Plante and Quebec Premier François Legault are cases in point.
Panic spread through the Legault government last week after the Coalition Avenir Québec lost a byelection in the Quebec City riding of Jean-Talon to the Parti Québécois — which has never held the district before.
The main reason for the loss was a backlash against Legault reneging on his repeated pledges during last fall's general election that his government would build a third link between Quebec City and the south-shore suburb of Lévis.
The wisdom of the project was always dubious. Spending as much as $10 billion to build a tunnel under the St. Lawrence River to a suburb of 150,000 souls doesn't make good financial sense. It makes even less sense ecologically, given that it would promote car use and encourage sprawl at a time when Quebec badly needs to reduce emissions from vehicles.
The issue dogged Legault throughout the campaign. He couldn't produce any feasibility studies, cost estimates or environmental assessments. But he doubled down stubbornly on the project at every opportunity.
Article content
Only after the CAQ was elected to a second term did Legault finally admit the project didn't add up. He vowed the government would build a tunnel for public transit instead.
It might have been the right decision, but it's no surprise that the population is angry at the third link being dangled like some shiny bauble only to be snatched away once the CAQ was safely back in power.
How you handle the public's trust sometimes counts as much as the moral high ground. Arrogance is rarely appreciated.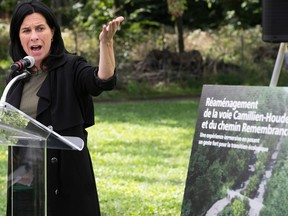 That also applies to Plante and her decision to close Camillien-Houde Way to most vehicle traffic, creating a cycling lane and pedestrian pathway on the eastern flank of Mount Royal instead.
It was clear from the get-go that this was something Plante always believed was important. Her administration tried to push through a similar plan early in her first mandate back in 2018. But when faced with stiff opposition, she balked.
Plante ordered up a forum from the Office de consultation publique de Montréal, which after hearing from 13,000 citizens recommended a compromise: keeping the mountain open to vehicle traffic, but making it safer for walking and biking, too.
Article content
Did she ever explicitly promise she would never, under any circumstances, go back on this détente? Plante certainly made it sound like she was ready to abide by the OCPM's findings. Reversing course after such a thorough and high-stakes process sure makes it feel like she's not keeping her word.
Perhaps closing Camillien-Houde to cars is the right thing to do. There are strong arguments for and against the plan.
But again, it's how expectations are managed that often matters most on polarizing files.
Plante ought to know this after the debacle of her first municipal budget. After campaigning in 2017 on a pledge to hold property tax increases to inflation (then in the range of a mere two per cent), she tried to disguise a much larger hike by splitting out the water tax.
Montrealers felt duped and Plante had to offer a mea culpa.
Lately, her administration has been pretending to consult, rather than actually gathering input and taking it into consideration. But the outcome always seems to be a foregone conclusion, whether on extending downtown parking meter hours or a safe injection site setting up next to a school in St-Henri.
There is little chance Plante will back down on Mount Royal's through traffic this time, but the matter is far from settled, given the overhaul isn't set to start until after the next mayoral election.
The third link is back on the table, though, with Legault promising (where have we heard this before?) consultations. We'll see how much faith people put in that process.
It's true that governing is choosing, and leadership is steering unpopular yet important decisions through the storm. But leading citizens down the garden path is a political sin one rung below straight-up lying. Telling people what they want to hear in order to get elected not only erodes confidence in politicians, but in democracy itself.
Beware of politicians who toy with the sacred public trust. And beware the wrath of voters who feel they have been played.
Related Stories
Allison Hanes: Simplistic solutions won't solve housing crisis

Allison Hanes: Judgement on English schools a warning to Legault government